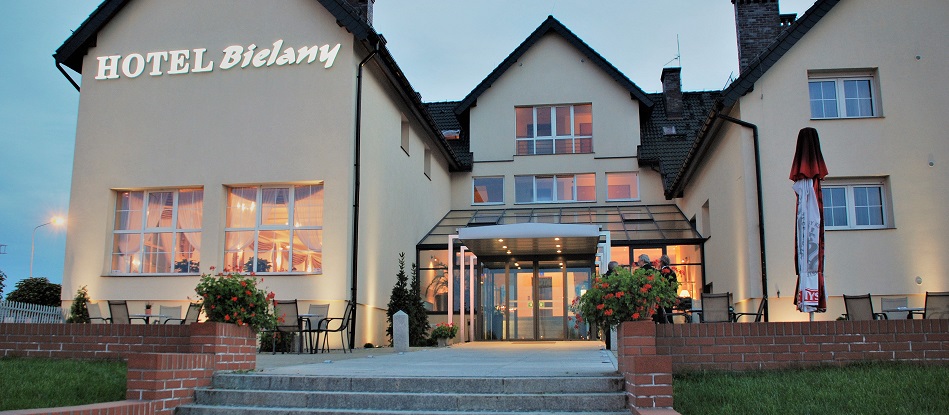 Mission of our hotel
Hotel Bielany ***

The elegant three-star Hotel Bielany is located along the main transportation route through south-west Poland. Its proximity to the A4 motorway and a giant shopping centre, as well as the 15-minute travel time to the centre of Wrocław are unquestioned attributes of the hotel. Hotel Bielany offers 59 sleeping places.
Hotel Bielany is an ideal base for visiting Wrocław(( as well as the most interesting places in the **Sudetes and Sudete Foothills.
As we host both business and recreational travelers, we have aimed to create cozy and comfortable rooms offering conditions for both rest and work. Our emphasis on close contact with our guests has inspired us to create a home-like atmosphere for them.
Karczyce Hotel ***

Inside the walls of a lovingly restored historical palace from the pre-war estate of the Kertschütz family one can find an exceptional place: Karczyce Hotel. Located 9 km from the Kąty Wrocławskie exit on the A4 motorway and 25 km from the center of Wrocław, it offers 59 sleeping places.
The Hotel is surrounded by a glamorous garden. At its center is a stylish wooden gazebo on the water. The Gold banquet hall is sure to make an impression on our guests, as well as the more intimate Lavender hall. Well-equipped and comfortable rooms also await our guests.
Karczyce is an ideal location for such gatherings as weddings, family reunions, banquets and conferences.
WE CORDIALLY INVITE YOU!